Grace Paseo
We're excited to announce the acquisition of our newest venue!
At Narthex, we seek to rejuvenate facilities with integrity and give them new purpose in the community.
The former Grace Baptist Church will become a multi-faceted center for local engagement and serve the young families in this vibrant district. This historic space is located in a comfortable and endearing neighborhood of Kansas City, at 7203 The Paseo, Kansas City, MO 64132.
Whether you're looking for an intimate space or a venue suited for larger social or company outings, we can provide the quintessential environment for any event.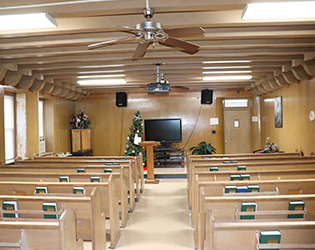 Auditorium
Capacity: 400 people
Theater style (has a stage, theater style seats and mezzanine)
New audio/visual system
Great for: Churches, weddings, funerals, corporate training, retreat events, theater and choir companies, music/orchestra rehearsals, large performances, recitals, movie showings, and more.
Office Space
Multiple office suites of different sizes based on your needs
Perfect for classroom space or educational purposes
Cafeteria & Commercial Kitchen
Capacity: 200 people
Full commercial kitchen
Stage for musical events or children's theater
Great for: Receptions, buffets, small group settings, business meetings, community and civic groups, luncheons, and more.
Child Care Facility Ready
This facility is child care ready and fully equipped with child appropriate equipment.
Bring the Space to Life
This unique venue can fill the needs of those planning events and weddings, or can serve as a space for non-profit offices or commercial suites. The theater style auditorium is also a great place for your crowd to gather and share an evening enjoying music or theater. We'd love to help you facilitate your next gathering in a space that is truly unforgettable.