Westport Broadway
There's a major modernization planned for 2018!
At Narthex, our vision is to provide facilities that enable vibrant communities. We are your incubator, your facilitator, your partner for growth.
You'll find that our Westport Broadway property is an essential cornerstone for celebrating life. A place that brings communities together in a unique, modernized historical facility with state-of-the-art facilities and suitably located in the Westport neighborhood of Kansas City, at 3931 Washington St, Kansas City, MO 64111.
The Sanctuary and Fellowship Hall are currently available for lease. Office spaces will soon be available after renovations are complete. Regardless of your community needs, we can create the ultimate space that will meet your vision and help you accomplish your mission.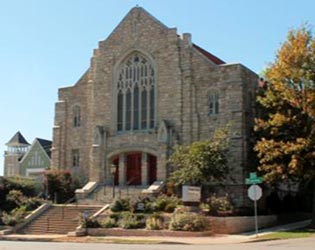 Fellowship Hall
Capacity: 200 people
Full commercial kitchen
Good for events up to 200 people
Great for: Receptions, buffets, small group settings, business meetings, community and civic groups, luncheons, and more.
Office Space
Office suites of different sizes and utilization
Rent includes utilities, WiFi, and a fully furnished space
Great for: Meetings, productivity, creative space, and more.
Sanctuary
Capacity for 300 people
Theater style (has a stage, seats on theater style and mezzanine)
Baptismal font (full immersion baptismal tank)
Organ
Complete audio/visual system
Great for: Worship, baptisms, weddings, funerals, corporate training, retreat events, theater/choir/chamber music/orchestra rehearsal or performance (acoustic is very good in the Sanctuary), organ recitals, movie showings, and more.
Interested in becoming a part of Westport Broadway's unique history?
We'd love to help you grow your congregation, celebrate a special event, or have a space that helps your creativity flow.